Policy Implications of Virtual Work, Brussels, 9 June, 2016
A meeting was held with policy stakeholders hosted by the Austrian Federal Chamber of Labour to discuss the policy implications of virtual work.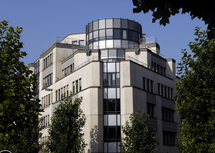 The meeting took place at Avenue de Cortenbergh 30, 1040 Brussels from 10.30 to 17.00.

Programme
Presentations
Over the past three and a half years, the Dynamics of Virtual Work COST Action has brought together leading scholars from a wide range of different academic disciplines in 31 European countries, plus several non-European ones, to map the state of the art on the impacts of digitisation on labour.
Working Group 4 of the Action has focussed on the policy impacts of these changes, interacting with a wide range of stakeholders from the European Commission, European Parliament, ILO, OECD, international trade union confederations, social partners, NGOs and other organisations. In particular, it has organised events and panel discussions on:
The explosive growth of 'crowdsourcing'
The impact of user-generated content on creative work
The rights of digital worker in online environments
The measurement of digital work
New forms of organisation and representation of digital workers
Health, safety and wellbeing in digital work.
This event is designed to highlight the key findings, share them with a broader policy audience, and identify issues requiring further research and/or policy initiatives in the future.